5 reasons why you should make a virtual tour for your listings now
1. 360 virtual tours make it safe for you, your team and your customers
2. It helps your brand stand out in the DIGITAL world and WIN new listings!
How many times you ask yourself how to outrun your competition? 360 Virtual Tours will make you stand out from the crowd and every landlord or seller will choose you rather than you competitor who offers the old fashioned photos only package…
Did you know that according to REA listings with vr tours have 357% more engagement than the ones with photos? This  says it all !!!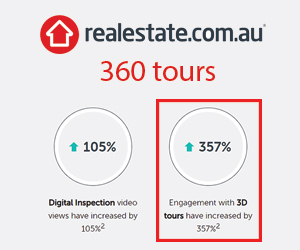 3. Allows you to save time by pre-qualifying tenants
There are many tenants on the market that often look only for opportunities and therefore are not really committed. You can weed them out by presenting the virtual tours of properties online before you plan an open house.
You won't have to worry about the tire kickers and next door neighbours.
During COVID tenants tend to rent or even buy properties site unseen… we have testimonials to prove that. Check it out on Google
4. Allows you to have a 24/7 open house
How many people can you run through an open house over the weekend? 20, 30 or 60 ? During COVID you might have 0 .
Our customers track their vr tours visits and will tell you that they can even have 400 people looking at the tour in 3 days…. where can you do that ?
ONLY a virtual tour allows you to work when you are not working.  Even better, clients can view it without bothering you whenever they want.
5. It helps your business restructure and gives Property Managers the time back to do what they should be doing in the first place
No matter how you operate, prepping properties for advertisement can be time consuming. From when you first launch a new property, to finding the right buyer or tenant to work with, it is very common to be inundated with enquiry. A virtual tour can help you segregate the serious clients from the curious.
What else can a virtual tour be used on?
By using a 360 camera, you can cover every corner of a house and it should only take about 15-30 minutes to shoot. Plus an additional 5-10 minutes to set up using Virtual Tours Creator's system.
You can also use virtual tours for:
assisting sales agents with generating appraisals,
assisting suppliers with quoting for repairs,
and as a tool in your entry and exit process.
Keep in mind that these are just some of the benefits virtual touring can bring to your business.