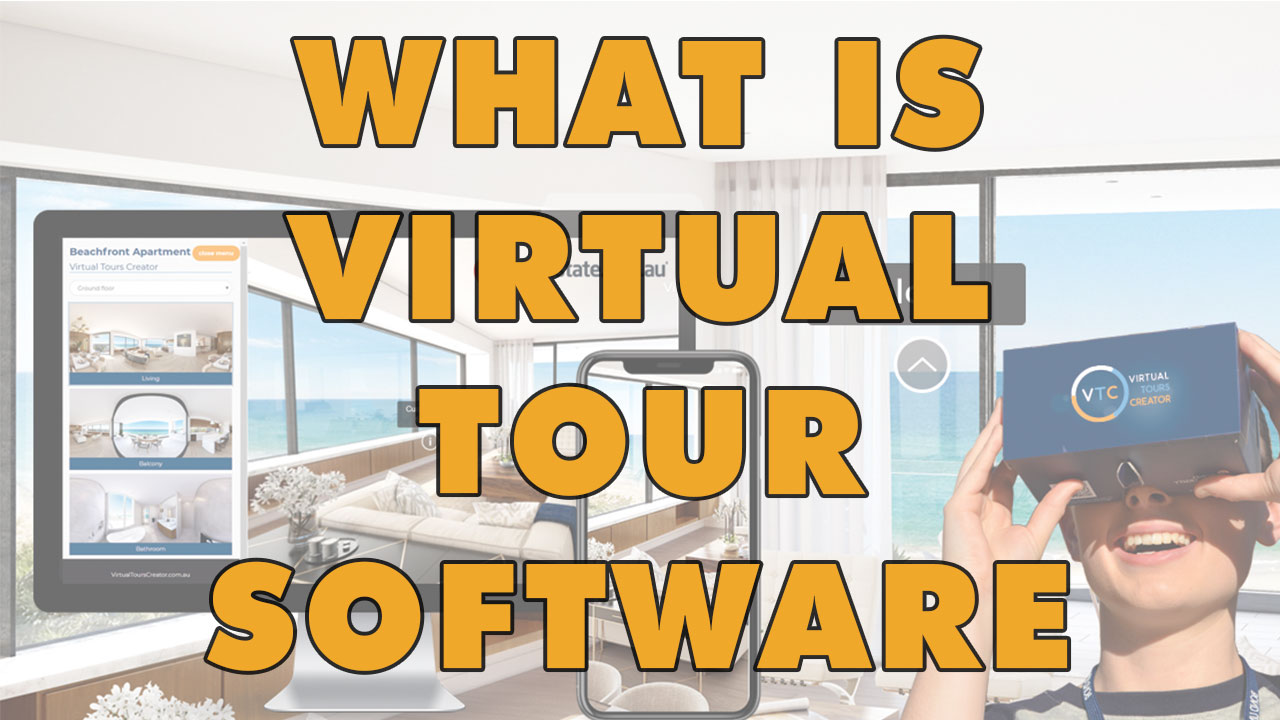 About 90% of all potential home buyers start their search online. 78% of them would love to see a virtual tour of the property before spending their precious time on going to an open house. Therefore in 2020 a real estate agent or property manager that wants to stand out from the crowd and exceed competition has to start thinking of creating Virtual Reality Tours of properties they want to sell or rent.
Luckily for everyone 360 tours for real estate don't have to be expensive anymore. All you need is a reliable, fast, easy to use and simple Virtual Tour Software, that will allow you to create a virtual tour in as little as 15 minutes and for no more then $5 per property.
So what is a Virtual Tour Software?
Virtual Tour Creation Software is a platform that allows anyone to upload their single 360 panoramas (from DSLR or any 360 camera) and connect them using Hot Spots into a Virtual Walk through.
Your virtual tour will just be a group of panoramas if you don't connect them together. Virtual Tours Software allows you to connect your rooms/panoramas by using "hotspots" to allow moving between rooms/locations. A hotspot is a button that allows you to move between rooms/panoramas/scenes and to join them into a combined virtual tour.
The virtual tour that you create using Virtual Tours Software exists online, in the cloud or can be downloaded to your hard drive (depending on what the platform allows you to do) and later shared with potential viewers by sending them a link via email or text message that they can click on and see the 360 tour.
You can also share the tour on Real Estate (MLS), Hospitality, Car or Boat listing portals or EMBED it directly on any website.
You can also share the virtual tours to Facebook to promote your business on social media or add a property virtual tour to your AirBnB listing.
Feeling overwhelmed with competition? Wondering how to impress vendors to win them over? Wanting to boost your listings performance without blowing your customers budget? Introducing virtual tours creator the only virtual tours software specifically designed for the Australian real estate industry. Our virtual tours are simple, fast and affordable. Yes very affordable from as little as $5 per property. You can take panoramic photos using any 360 camera. It's as easy as taking a photo with a phone. No photographic skills required. It takes less than 15 minutes to shoot a 3 bedroom house. When you have the photos ready, log into VTC portal and create a tour. Upload panoramas and name each room. Add hotspots to move between rooms. Emphasize points of interest by adding info points. Create an interactive floor plan to make it easier for buyers to understand the layout of the property. 10 minutes later you're ready to publish the tour. Simply copy the link and paste it to Facebook or any property portal. On www.realestate.com.au your virtual tour will be posted on the second photo of the carousel. You can also post it on Domain, your own website or send it via email. If you want to win more vendors and exceed competition, without increasing your marketing cost then START today! If you have a camera go and sign up for free. If you don't, request a call back and we'll help you get started.

[icon name="question-circle"]How to make a virtual tour for real estate?
To create a Virtual Tour for real estate you need:
Hardware
Virtual Tours Software
HARDWARE
You will need a 360 camera (500- 800 AUD) or a DSLR camera.
There are now quite a few "one click" 360 cameras on the market. They allow you to quickly take 360 photos and they stitch the photos together. So you don't need to use any 3rd party software to stitch the pictures into one 360 sphere. They deliver great quality of photos.
Compared to DSLR the "one click" cameras are much faster and they will help you shoot a 3 bedroom house in 15 minutes but DSLR will deliver much higher photo quality and resolution. Although instead of taking one photo you will have to take at least 4 using DSLR and afterwards you will have to stitch them in a 3rd party program, which will lead you to more time spent on premises and in post production.
Almost all of the 360 cameras shoot photos in 4-5K, some of them shoot in 7K we use MadVenture360 that delivers 24 MP panoramas. They can also shoot "brackets" or RAWfor HDR merge. The photos are looking great in Real Estate even without postproduction. The cost is between 500- 800 AUD per camera.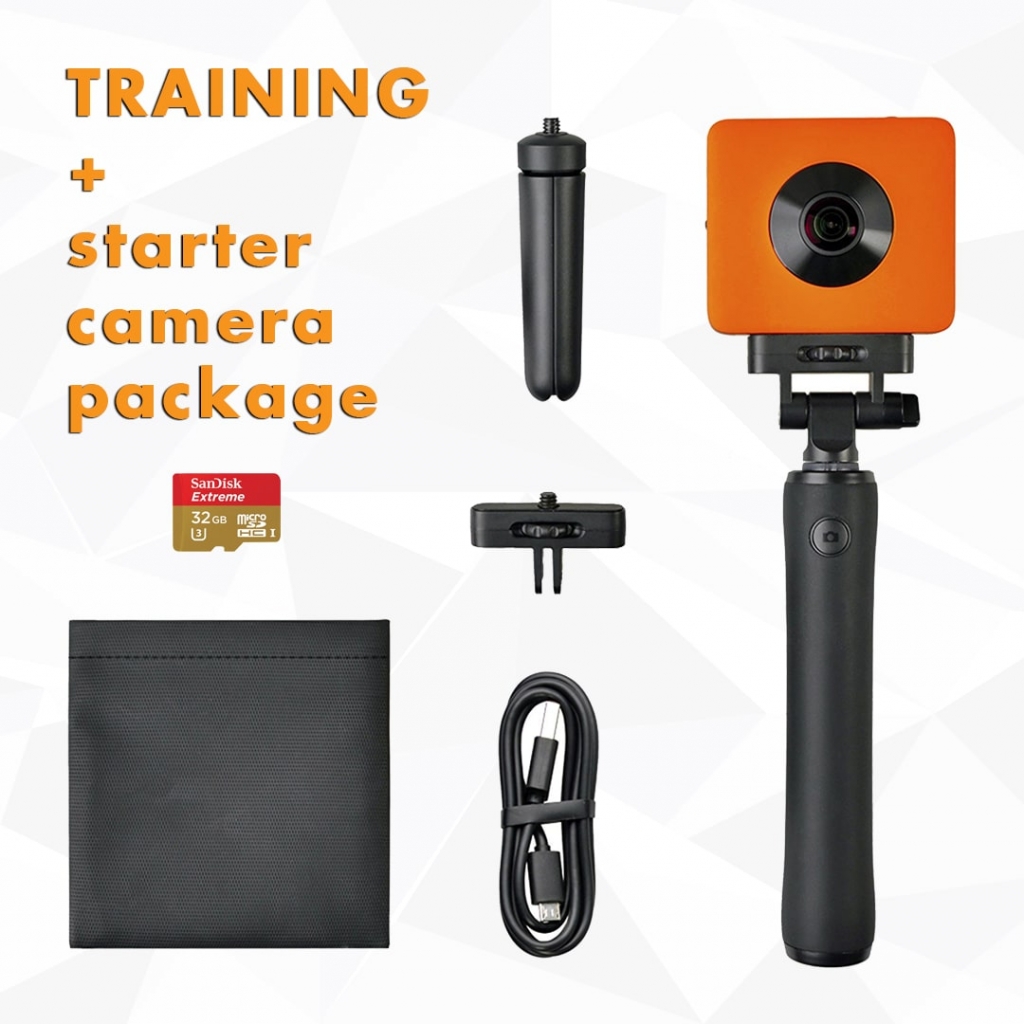 You need a 360 camera tripod / monopod (149-200 AUD)
You have to put your camera in the center of the room, and you have to leave the room to take a 360 photo (so you are not in the photo). Remember that the camera has to be lifted at least 10 cm above the tripod head. Therefore your 360 camera tripod has to have a special extension with a ¼ inch female to male thread to fit into a small 360 camera.
We are big fans of 360 camera tripods as they are more stable and they do not fall over in the wind. That is very important in the Real Estate External photography. You have to know that none of the 360 cameras have replaceable lenses and if you break the lens it will either be impossible to fix it or it will cost you way too much money. SO TAKE CARE of the camera and don't let the wind blow over your tripod.
360 camera Monopods on the other hand are smaller, lighter and more handy, but they are usually unstable and easily fall over.
Unless you find one with extra weight at the bottom (minimum 500 grams) and very wide tripod feet. We custom designed and made a 360 camera Monopod in 2020. You can find it here.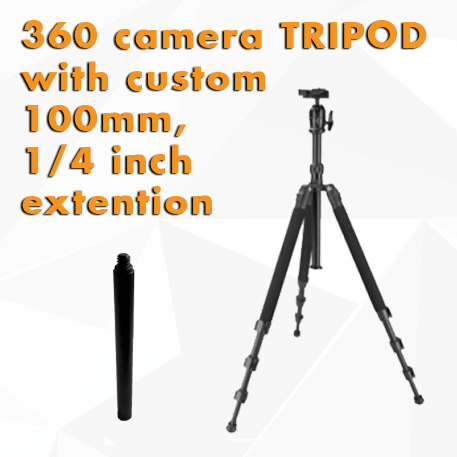 VIRTUAL TOUR SOFTWARE
By now you know that you need a Virtual Tours Creation Software to put a 360 tour together. There are quite a few to choose from depending what you want to achieve, how much money you want to spend on them and what customer service and training comes with it.
Remember that some of the services do not focus on teaching you how to create the tours. They simply deliver software but there is very little live support when something bad happens and you get stuck on the job… Make sure you check with your virtual tours software provider what Customer Support do they offer before you sign up for their subscription.
Watch the below video on How to make a virtual tour for Real Estate.
Welcome to Virtual Tours Creator! My name is Tom and I will walk you through the process of creating a virtual tour.
First go to virtualtourscreator.com.au and login to the portal. Click on the login button to access the VTC portal. If this is your first time, click the register button and follow the instructions. I'm already registered so I can login in with my username and password. This is your HOME section, here is a tour I've created previously – 5 Purple St, Miami and now I'll show you how to create a new one.
Start by giving your tour a name – 1 Lane Ave, Brisbane for example and click on the CREATE TOUR button. This will take you to the Editor page. Here is your tour name, you can edit it by clicking this button. Now you tour has been added to the Home page.  Any panoramas or information you add from now on will be automatically saved. You can access the Home page by clicking on 'Back to Home'. To continue editing the tour click Edit.
Now it's time to add your panoramas. Let's give the first one a name. This will be a Living Room and it will be automatically assigned to the Ground floor. Click to browse for photos or simply drag and drop your photo here. To make your work easier, make sure to add a description to your photos before uploading them to the portal. Please remember that you must add a panorama name first in order to add photos, this is a very important step. Finally click 'upload panorama' and you will see it on the left hand side. Once you've uploaded the first one, upload another one by clicking ADD NEW PANORAMA. Let's name it Bedroom. For training purposes, let's assume the room is on a different floor. To add a floor, click on the plus button, create an additional floor name and assign the room to Floor 1. Drag and drop the photo the same as you did previously and click upload Panorama. In this example I have uploaded only 2 panoramas, however you can upload up to 20 or 30 panoramas per tour depending on your subscription.
Now that you have uploaded your panoramas, let's go to the next step and add HOTSPOTS. A hotspot is a button that allows you to move between rooms or locations and join them into a combined virtual tour. To create one, simply "right-click" on the place where you want to make a connection between 2 panoramas.  Click on the option "CREATE HOTSPOT" to choose the panorama you will connect to -We want to connect the Bedroom with the Living Room so choose Living Room from the list. Once you have the hotspot set up, click on it and it will take you to the connected room. Add a returning hotspot on the next panorama. Keep adding hotspots to all your panoramas until your tour is ready. Remember to create hotspots to go back to the room you came from. First we created a hotspot from the Bedroom to the Living room, and now we've just connected the Living room to the Bedroom.
Finally you need to set up a 'start panorama' and 'start views'. Pick one panorama as the start of your tour – right click and choose SET AS START PANORAMA. The tour will always open with the start panorama. This panorama will also show as the main photo for the tour.
The last step is to set up a START VIEW in each panorama – this will open the panorama looking in the direction you choose. Choose the direction you want to look at and right click to choose the "set start view" option. There is also an option to add extra information about the property by using the info buttons. To create one, simply "right-click" on the place where you want to make a note and choose the "Add info" option.
You can also add a floor plan to your tour. Drag and drop or click to browse and add it. If you wish to create an interactive floor plan, watch the video "How to create an interactive floor plan. Now that the tour is ready you can preview it by clicking on the PREVIEW button. It will open in a new window. Preview different floors and check hotspots. If you need to make changes go back to the Editor page. If you are ready to publish, go to the Home page. In your home section you will find all the tours you have created. Choose the tour you want to publish and simply click on the share button. There are two options: The first one allows you to get a link to post on any property portal. The second one gives you HTML code to EMBED on any website.
Thank you for watching. Now go and create your amazing Virtual Tours with VTC the Virtual Tours Creator.

[icon name="question-circle"]What is the best virtual tour software?
The best virtual tour software in Australia is Virtual Tours Creator.  It is the only software approved by Real Estate.com.au, with true Australian info line support almost 24/7.
THE ONLY PLATFORM IN THE WORLD TO OFFER ONE ON ONE TRAINING FOR ANY MEMBER OF YOUR TEAM!
Your tours are guaranteed to be displayed on the 2nd photo of the REA listing carousel as well as Domain, All Homes, REIWA, HOMELY or any other listing platforms across the world.
CREATE A PROPERTY VIRTUAL TOUR IN 15 MIN FOR AS LITTLE AS 5 AUD . NO PHOTOGRAPHY SKILLS NEEDED
WORKS WITH ANY 360 CAMERA OR IMAGE
| | | | | |
| --- | --- | --- | --- | --- |
| Features | FREE | Starter | Business | Enterprise |
| Total of active tours hosted at any given time Active/Inactive | 1 active | 3 active / 9 inactive | 10 active / 30 inactive | 30 active / 90 inactive |
| Panoramas per tour | 5 | 10 | 20 | 30 |
| Australian/International support, direct mobile number, online chat or FB Messenger |  yes |  yes |   yes |   yes |
| In person training for every member of your team |   Yes |   Yes |  Yes |  Yes |
| The best FREE video tutorials on how to create VR tours |  Yes |  Yes |  Yes |  Yes |
| Compatible with all property portals |  Yes |  Yes |  Yes |  Yes |
| The ONLY tours displayed on the 2nd photo of the listing carousel on Realestate.com.au |  Yes |  Yes |  Yes |  Yes |
| Tours work on any device |  Yes |  Yes |  Yes |  Yes |
| Works with any 360 camera and equirectangular photos |  Yes |  Yes |  Yes |  Yes |
| Your own branding/logo – custom nadir logo in every tour |  Yes |  Yes |  Yes |  Yes |
| Add unlimited Info points to describe property features and mark objects inside the tours |  Yes |  Yes |  Yes |  Yes |
| Add URL's to external websites inside the tours |  Yes |  Yes |  Yes |  Yes |
| Interactive floor plans |  Yes |  Yes |  Yes |  Yes |
| Direct tour link to share on Facebook, MLS and via E-mail |  Yes |  Yes |  Yes |  Yes |
| Virtual Reality ready tours, work on any VR headsets including Google cardboard |  Yes |  Yes |  Yes |  Yes |
| Unlimited server space |  Yes |  Yes |  Yes |  Yes |
[icon name="question-circle"]What are the benefits of using best virtual tour software for real estate?
Pascal Pierre is the Licencee of LJ Hooker, Helensvale, QLD, Australia
Pascal has a proven track record of success and a member of the Captain's Club Multi Million Dollar Chapter. That means he is in the top 7% of LJ Hooker agents internationally!
Learn why he loves to use virtual tours for real estate in his business.
My name's Pascal Pierre. I'm the principal of LJ Hooker Pacific Pines, and LJ Hooker Helensville.

Look, my perspective on the virtual tours is, I think it's another dimension that's been added for the consumers. For us, it's all about our consumers, our customers, and what they want, and in the day and age that we are now, we're selling more and more properties from people who are time poor, people who are interstate, especially on the Gold Coast, who can't necessarily just drop everything and come to an inspection, and what the virtual tours, they asked them to do is pretty much walk through the house and see bits and pieces that they otherwise would not see through a video, things that are important to people. For example, pantries, walk in robes, which on a normal property video or a shoot, we wouldn't take photos of those. Yet, when you've got a virtual tour, you can walk through all of those things and there are questions that, when you're walking through a home and you're looking at the functionality of the home, there are important things will hinge decisions on because of the practicality of living there.

From my staff I have, which again, they'll be getting the feedback from their clients, but it is that, as I've said. It's just added an extra dimension to be able to help people make a decision. What they're finding is, there are people who, they'll come through the home, do a couple of inspections, but with the virtual tour, they can go back as many times as they like, and it allows them to go back through bits and pieces that they're not sure of, rather than having to call the agent, book another inspection, go back out there. So yeah, I just think that, for what it is and how much it costs us to do it, it's an absolute no-brainer in terms of the technology of the future, and everybody likes that.

Whether we like it or not, consumers have now gotten to the point with technology that the want things yesterday. Yeah, and what this allows them to do is go, "Ah, I want to go and see this, but I'd have to call the agent, book an inspection." Now, they can just go on their phone and they're back for the home.

Most definitely, most definitely. Whether you're in the LJ Hooker family, or you're not, in my opinion, if you're working in real estate, you need to be using all of the tools that you can possibly use to help your clients, and for me, this is one of those that, back in the day, we'd discuss floor plans, and once floor plans came in, we can't live without them. I think this is probably the next one.

Pascal Pierre, principal of LJ Hooker Pacific Pines and LJ Hooker Helensvale

</a
[icon name="money-check-alt"]Using 360 virtual tours in real estate sales
Using 360 virtual tours in real estate slaes with Daniel Brown, Licensee In Charge of Wal Murray & Co First National Real Estate in Ballina, NSW, Australia.
Learn why he loves to use virtual tours for real estate in his rural area.
So, I'm Daniel Brown. I work for Wal Murray & Co First National Real Estate in Ballina, and I'm the licensee in charge of the office here.

We mainly use virtual tours for the sales side of things. We found it very effective with our marketing for sales. We hope to get into the property management side of things in the future. We found that it's very, it's very easy to win listings with the virtual tours. There's not many people that use such technology in our area, we're a regional area.

We found it a very good point of difference for our sales. We chose Virtual Tours Creator as a point of difference. We really wanted to try and win more listings in our area and build our brand. We've been around for a very long time, but we wanted to get in touch with higher technology and really boost our numbers. We looked into other software, but we found Virtual Tour Creator was very good value for money and very simple to use. And we didn't have to worry about delivery of products. We just go straight away. So, when we looked into other software, Virtual Tours Creator was very affordable.

We found it very simple to use. It was easy to set up, easy to come back to the office.

For example, if I went out to a three bedroom house, I would set up my phone, set up the camera. I would have the tour, room by room, done in probably around 10 to 15 minutes. And it's very simple. Come back to the office, load up the photos, put in the arrows, and it's easily done. So, the product is very clear. It's very simple to use. And you can just go room by room.

We've got a lot of senior people in our area, and they've found it very simple to use. The response from our customers is that they've been absolutely blown away. The goggles, people just can't believe it. As I said, we've got a lot of older generation here. It's a place where a lot of people come to retire. And when they put on the goggles, do the tour themselves, they're absolutely blown away.

Yeah, we've found Virtual Tours Creator a very good point of difference. Being in a regional area, it's not very common for people to use virtual tours. And we've really stepped up our game and got ahead of the competition by using it.

I would highly recommend Virtual Tours Creator. I've tried to get Tom in touch with the First National CEO to try and get our First National offices using it. I definitely would recommend it.

Daniel Brown, Wal Murray & Co First National Real Estate in Ballina

What are the benefits of using best virtual tour software for real estate sales?
Learn how Robert Paridis ( Laing+Simmons,Bondi Junction, Sydney, Australia ) is using vr tour software to support his Real Estate business and how he benefits from using 360 virtual tours.
I'm Robert Paridis from Laing+Simmons Bondi Junction.

I've been using virtual tours now for  six months / nine months. And it's been a great tool for my business.

I use the 360 panorama software for my sales listings and the property management listings. The benefits from the virtual tours creator is if people haven't got time to go and see the property they can see it online with the virtual tour. If they like what they see then they give you a call and then make an inspection. So it's a pretty valuable tool, it's good.

Very affordable. it's quick, it's good but the only thing I can say is you got to do every room which sometimes takes a little depending on how big the house is. It could take a little bit longer than normal but other than that it's an excellent tool for my marketing.

Quality of the images is second to none, it's excellent.

I had a couple of interstate owners, couple of landlords and a vendor. I did the vr walktrough and  I sent them the virtual tour. They hadn't seen the property for I think a good six or nine months and they saw it, liked what they saw and I put it on the net and clients love it because they can see what it's like before they even get there.

I have picked up management business because I gave clients a virtual home tour. It's something that in Sydney at the moment not many people are using and I use it as a tool that I can win business.

Yeah, I'm. happy for you to show it to Leanne and Jacks and then if they want to send it to anybody around the Laing and Simmons franchises I haven't got an issue with that. They can call me as well if they like.

Robert Paridis, Laing+Simmons Bondi Junction
Benefits of  360 Virtual Tours for Property Management:
[icon name="check"] Create incredibly engaging and interactive content for advertising the property on the market. It takes about 15 min to take 360 photos of a 3 bedroom house, and another 5 to create the tour online.
[icon name="check"] increase the engagement more then 50% according to REA. Our tours are approved by REA and Domain each Virtual Tour comes up on the 2nd photo of the listing carousel . Realestate.com.au even pushed videos to the 3rd position behind the tours.
[icon name="check"] create Entry/Exit condition reports, quarterly inspection reports or just simple communication with Landlords or tenants in the form of a 360 virtual tour
[icon name="check"] Add notes and descriptions direct inside of the tours to describe the general condition of the property. As shown on the video.
[icon name="check"] Increase Social Media impact. Create Facebook advertising content that is much more interesting then normal photos or Videos. VTC tours can be simply shared on FB, via email or SMS.
[icon name="check"] add Aerial 360 panoramas to the tours to emphasize the location of the property compared to nearby schools, shopping malls, parks, beaches or trendy coffee places worth showing to sell the lifestyle and not just the property
https://vtc.virtualtourscreator.com.au/share/4d0bf061a8f81a14d27664943e3cb43d
[icon name="check"] present the perfectly staged property using iPad, desktop or VR cardboard goggles in the office to potential new renters when the current tenants are not willing to cooperate or the property is not looking the best to present it
[icon name="check"] win listings by blowing the customers mind away 🙂
[icon name="check"] build your brand, position on the market as innovative managers providing exceptional service and value for money to the hose owners.
[icon name="check"] improve SEO results when including the tours on their website
[icon name="check"] send a link to the 360 tour to landlords or tenants and let them walk around properties as if they were there.
[icon name="check"] save time and offer PREMIUM service to your customers.
[icon name="check"] create your own interactive tour in minutes and ADD YOUR INSPECTION NOTES to it.
[icon name="piggy-bank"]How can you save money by using 360 tours in Property Management
[icon name="arrow-circle-right"] save time on taking 400 photos of the whole property on Entry/Exit report while taking just a few 360 photos that include everything that's in the room in one photo. Each photo is in 7K quality delivering high quality images that can be used in court if needed
[icon name="arrow-circle-right"] save money on Marketing limiting the number of professional photos that need to be taken to 1 of the house from the outside or just 1-3 hero shots and replacing the rest with a Virtual Tour that managers can create themselves at a cost $2-$7 per property
All for as little as $2-$7 per property.

Using 360 vr tours for Property Management
Using 360 virtual tours for Property Management with Adam Freitas, Raine & Horne Newtown.
Results driven and highly professional, experienced New Business Executive Adam Freitas has been helping investment property owners secure the best possible results for fifteen years. Learn from him how 360 tours benefit him in his work. Have fun watching and please, share, like and comment if you like it !
My name is Adam Freitas and I'm the BDM here at Raine & Horne in Newtown, and I wanted to share with you today really quickly just some of my experience to date with a wonderful piece of technology, virtual tours, and more importantly, my dealings with Tom and his product Virtual Tours Creator.

Now, I use virtual tours in property marketing, and I believe that gives me an amazing edge and advantage over my competitors.

For my clients it allows them to really, truly show their property and how it presents, and more importantly, it allows tenants to prioritize my listings over the next ones. So by saying that, and what I mean by saying that is, tenants can jump online, have a really good look through a property. We wanna make sure we're connecting the right people to the right property, so if it doesn't suit a tenant, they're not gonna waste their time and come out to a property that's not gonna suit them. But what it is gonna do, it's gonna make it even more of a priority for a tenant that it does suit to cross off other properties off their list before they cross off mine. So they'll be at mine, giving me an opportunity to really engage with the right type of tenant for that property.

Secondly, I think most importantly, it allows us to really give a tenant the second chance to have an inspection of a property, pre or post inspection. Now, if we talk about post inspection, the end of a Saturday, a tenant may have gone to five or six different open homes, maybe more, they're not gonna remember every single property. They're not gonna remember every room, every corner or every bathroom or kitchen. What we can do is give them that chance to jump online, go back when they're in decision making mode and take another look through, refresh their minds.

What we've seen, we've seen days on market drop because of that, tenants' feedback has been amazing.

They love that they have the opportunity that they can go and revisit a property online and see things maybe they may have forgotten or may have missed the first time around. So the benefit to our business has been amazing after just a short time of introduction.

I shoot my own. It takes me half an hour from when I shoot to when I have a listing up online. So for me that is an amazing time saving period. Now, it's up to you how you shoot them, you can have people do 'em for you, but it's so easy to use. If I can do it, anyone can.

Tom's amazing. He's always on the phone if you ever need him. His website has an amazing number of virtual assistants in terms of tutorials and videos up on YouTube that really run through the end to end, the A to Z of everything to do with virtual tours and how to shoot them with these products. So if you are considering it, I'd definitely give it a go. I think you won't be disappointed. If anything, you could just see your business just improve that little bit more.

Adam Freitas, BDM at Raine & Horne in Newtown

</a
Secrets of property advertising and inspections using 360 virtual tours for real estate property management.
Tara L Bradbury – Elite Agent's 2019 real estate industry influencer, is dynamic and highly motivated with an explosive passion for Business Development. She has developed a reputation for being the growth expert for individuals and businesses through her online and department training packages.
This year she decided to walk the talk again and opened her own Property Management business focused on using all the things "digital" to help her customers achieve their goals. Check out Active Agents
Learn the secrets of Property Advertising and see for yourself how Tara is implementing the latest Proptech solutions to:
[icon name="check-square"] Get great quality tenants
[icon name="check-square"] Perform quick and engaging inspections
[icon name="check-square"] Make extra income on VR tours
[icon name="check-square"] Lease faster
[icon name="check-square"] Allow tenants to inspect properties online before applying And quite a few more advertising tricks 🙂
My name is Tara Bradbury, I am the principal licensee of Active Agents, but I also wear a few other hats so I'm also the director of the BM Academy and co-partner of the Real Estate Training Group. I'm actually using Virtual Tours, it's a very interesting space and I'm finding it extremely beneficial for the tenant inspection side within my business, so my active agent's model is a property management only business and I've found so far that with our launch from it's about early May that we implemented the virtual tours straight away with our vacant listings, even though we do have quite a strong market, where we are under that 1% vacancy, I've seen properties where they've been in the peak end of our market getting up to that high 600 mark which is high for our area, getting great inspections, fantastic quality of tenants coming through and in fact applications on properties for people that can't physically be here but by seeing that virtual tour they can comfortably put an application in and I can continue that conversation with them afterwards.

Yeah, I'm using virtual tours across all the properties and encouraging my investors to pay for that investment, I've got 9 key areas that I focus on when advertising the property for rent and the virtual tours is in the top 3 of things that encourage recommendations where we have seen proven results, to be able to have tenants inspect properties faster I should say has been hugely beneficial, especially when the property might be a new build as an example, and you can still see as part of the virtual tour that there might be a few things that are happening with the final handover stage but the prospective tenants, they can get a really good visual of what they're going to experience getting into the property, they can apply faster, and when you are a marketer, if you're in that position where you're doing a great vacancy, it was just fantastic, tenants want the opportunity to be able to apply sooner and investors want the opportunity to be able to have a handover and know that they've got income coming in, so it's certainly a win-win for all parties and it looks really professional as well which is fantastic.

Tom, I can't give away all nine all of my secrets but I will say yes, it's how to present the property and as you know I'm a huge advocate for Box Brownie as well, and use lot of them for the editing side of photos. Some people feel that with the editing side that you're changing the way of how the property looks, I actually just use it in the sense of today we're here at Perth, it's very rainy and overcast day so to put in that sunshine just makes that big difference of how the property can look. And if they're not using a professional photographer then I'm taking the photos, I'm not as clued on as to making sure the lighting and everything is perfect and Box Brownie allows you to edit that and fix that. So they're probably two of the main ones that I see of great investment that every office should be using, and it allows me to have professional photography, professional videos at an affordable rate that investors are prepared to pay for.

And gone are the days where you felt that you need to spend $500,000, you don't need to anymore you can create really good packages and encourage your investor to how the experience starts is how it's gonna come when it comes to the end and to get the right tenants to have the opportunity of huge variety, you have to make sure the property is very transparent to the market and they're they key ones that have benefited in making this process. But for me when I was getting started, I was one of those people that I'm terrible at reading things, so I just got the camera, went straight to the property, and wanted to take on the challenge really quickly and it did take me some time with the first one. I practiced on my sister's house, 'cause she's got a three bedroom low-set property and then by the second and third one, I'm getting them done within 30 minutes. So it's all about just having a go, you can't break it, asking questions where you need to there's other virtual tour users out there as well, so connected with quite a few of those we've got a heap here today in Perth, which is great, and just trialing it and seeing what happens as of today I'm obviously getting more comfortable with the videos side, I've just been using the photo side to get through the property in that virtual experience, so with the video side I'm really excited to bring some different ways of approach of advertising and marketing for the area in general in my market place utilizing that technology.

– [Interviewer] Wow, awesome, one more thing that I just wanted to ask but 'cause I'm listening actually to what you're saying I forgot, but it was more about is there enough information or support or training from VTC to get you going? What do you think about that?

The training and support I think is fantastic, I think that they're great video resources on there model and information that can help, if you're that type of person that loves to read through everything before you use, and as I mentioned I'm not the best at that, but there's a massive library of resources there and available, I'm a more kind of get in and do it and see what happens and trial things and break a few things but there's definitely that support there if that's what you're looking for to make sure that you're maximizing on what you're using the product and also just picking the phone and being able to talk to Tom and the team is really beneficial as well, because sometimes it's the smallest question that you might have that will completely diversify how you market that property and how you market your business so don't be afraid to ask, use all products in my opinion and programs across your property management business that full capacity, to get the best value and you'll certainly get that from this product.

– [Interviewer] Okay, last thing, would you recommend it to anyone that would like to get

– Yes. using virtual reality tools in property management space?

– Yeah look I know how, so I'm certainly and advocate for what Tom and the team are doing there at Virtual Tours Creator, so I do certainly highly recommend it. I think it's a space that will get fairly competitive and it's great to see, I do see other agents using it within my area on the sales side, I really think property management could go a long way if they really expanded on that within their businesses so I love that I'm one of the first to do it in property management in my area and I know that I won't be the last, it's a fantastic product.

Tara Bradbury, principal licensee of Active Agents, director of the BM Academy, co-partner of the Real Estate Training Group
[icon name="question-circle"]Why the best BDM's use virtual tours for real estate property management
Let's ask Jessica Melling – the best Business Development Manager at LJ Hooker Robina on the Gold Coast, Australia. With 11 years of experience she is an expert in this role ! Learn to why use virtual tours for real estate sales and property management directly from her. If you need some extra answers to your questions ask us in comments and we will make sure to answer them.
My name's Jess and I am the business development manager at LJ Hooker in Robina Varsity.

The main point of us using the Virtual Tour Creator is for advertising. As a business development manager, I'm going into my meetings with my potential clients and I'm actually showing them a live tour of what we can do. So once we sign them up, we're then going through the home and doing the tour and then using it as part of an advertising tool. We're also making sure that we use it to prequalify tenants to the home, because it's becoming more common for people to want to apply for the home without actually seeing it. So they're able to see the home without having any issues.

I'm thinking it's giving us an edge with technology. I know that this is the technology for the future, so us being able to have it now, before anyone else does, sets us apart. It's also an extra tool for us to win business. Our property managers are actually starting to use it for Entry Condition Reports. It's also helping them if they haven't seen the property in three months, that they can go back on and see the property, what it was like and get a refresh.

We decided to use the Tour Creator in the business because LJ Hooker does like to be one step ahead with technology. We have been using this for a few months now and we have noticed that our clients are very impressed with the technology that it does provide. It's really easy and it's quite affordable. We can do a four bedroom house, walk through the house, take the photos, within about five, 10 minutes and then come back to the office and you can have the tour created in another 20 minutes. It is about a half an hour exercise to do a full property, but I guess the more you do, the quicker it gets.

The quality of images that it does provide, it gives you that little bit extra leeway if your owners didn't want to use professional photography. The tours do create the photos in a better quality than what your phone would. It also does show the property in it's true condition, so it's not, you haven't got overexposed photos, overexposed videos, so people can actually see the home for what it is. It's basically our landlords that probably get the most excited when we're going through their home and taking the videos and we're walking from each room and then running out of the room to take the photo with them. They get quite excited about it and I guess it's technology that if you're not in the industry, you don't understand how normal it is. So for them it's very exciting. They know that this is the way that technology is going to be going in the future, so we need to make sure that we're ready now with this technology so that in six months, one year, two years down the tracks, when it becomes normal we're already ahead.

We understand how it works and our clients obviously already expect it from us. It is a great point of difference. It's keeping us ahead of everybody else and it's a great tool for all of the new BDMs because it is very important for us to be growing our rent rolls and to have that point of difference. Great tool for the property managers to have during Entry Condition Reports and a great way to keep a good relationship with your owner. So you might be dealing with an owner who's just purchased a property and they may not have seen it. It's a great way for us to go, hi Mr. Landlord, here's a quick video that we took of your property, so you can see how it is.

Another great tool for property managers to do is after renovation, to be able to go through, do the video and go, hi Mr. Landlord, thought you'd like to see a full update of how your property is looking. Tom is very easy to contact, which is great and also his website is very self-explanatory. Once you've done one tour, you'll find that you'll be able to do another 50 with your eyes closed. It is great that Tom is easily to contact, so we can text him, e-mail him and he's always getting back to us the same day.

Jessica Melling – the best Business Development Manager at LJ Hooker Robina on the Gold Coast, Australia

</a