VTC 1st Birthday Gift – 60% OFF Yearly Plans !!!
November 2017 was the day I met Nigel Dalton from REA at a L J Hooker conference on the Gold Coast. This was the day that Nigel gave me hope and I understood that anything is possible if you really believe in it!
Fast forward to 4th April 2018 after meeting incredible people from Real Estate .com.au who helped us with the design and testing of our prototype Virtual Tours Creator was officially launched !
This platform has many fathers and mothers. Among them Izabela my – ever supporting wife and Ewa – my mum and the first investor. Luke, Rohan, Amanda from REA. My tech team David, Robert, Maciej and Lukasz.
But most importantly YOU my Dear Customers, without whom this project wouldn't have any wings. You gave me your trust and believed in the power of virtual tours for your business. I will be ever grateful for your support and feedback!
Therefore to celebrate that and say thank you from all of us here in VTC we would like to offer you a special gift.
60% OFF the regular Yearly Plans !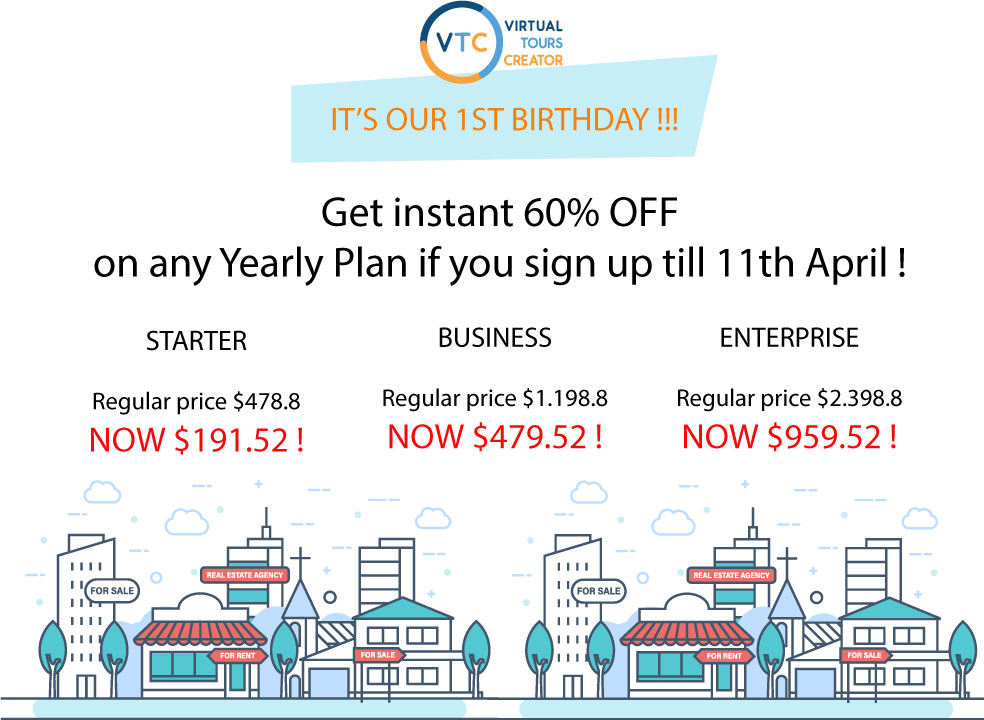 All you have to do is log in to your account and instead of choosing a monthly plan click on the YEARLY and choose a plan that you would like to sign up for. Your monthly subscription will be automatically cancelled and you will be on the yearly plan from now on.
If you don't know how to do it please send Tom an email to tom@virtualtourscreator.com.au or call him on 0468638900 to secure the deal !!!